Kerala Government Secretariat, the nerve-centre of administration in the State, is completing 151 glorious years. This imposing mansion, constructed in a rich blend of Romano­ Dutch architectural style, remains a giant pillar of historical significance and monumental charm.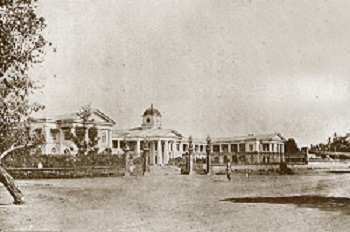 The secretariat was formerly known as Huzur Secretariat or Dewan's office through which the Dewan Peshkar was monitoring and managing all Departments. Col. Munro, the British Resident who was also the Dewan from 1812 to 1818 was responsible for dividing the administration of the State (Travancore) on modern lines such as Revenue, Public Works, Judicial and Legislature. He demolished the system of delegation of power which was in force from very early days and kept the whole authority concentrated in his hands. Thus beginning the secretariat system where every administrative head had to address his proposals to Government and they were supposed to be carefully considered by the Dewan with the assistance of the officers.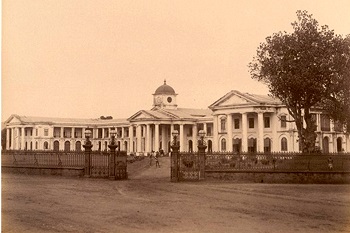 The Secretariat Building:
The main Secretariat Building complex was constructed to accommodate the public offices of the former Travancore State during the reign of Ayilyam Thirunal (1860-1880). It was formally occupied in the year 1869. Several extensions and additions were made to the main building thereafter. Sree Moolam Assembly Hall, where the Kerala Legislative Assembly was functioning before moving to its new building in 1998, also was an addition to the main building. The then Dewan Sir Madhava Rao (1858-1872) was instrumental in constructing the Secretariat building, by which reason; a full length statue of him was unveiled just in front facing the wonderful structure in 1893. Additions like South Block (1961), South Sandwich Block (1971), North Block and North Sandwich Block(1974) were made to the main block as per the growing needs of various branches of the establishment.
The main building is unique for its majestic, elegant look projecting the perfect combination of Roman and Dutch styles of architecture. Built on solid granite foundation, the superstructure is made of burnt bricks. The building has wooden flooring on the first floor and a flat wooden ceiling. The Durbar Hall built in the centre of the building with the Clock Tower atop is the most attractive portion. Costly chandeliers of exquisite craftsmanship hang from the ornate ceiling painted green and silver and big size mirrors in guilt edged frames with the royal insignia of two elephants and the conch shell at the top adorn the magnificent hall. This lovely auditorium is regularly busy with various meetings and deliberations of different departments and state of the art ceremonies of Kerala Government.