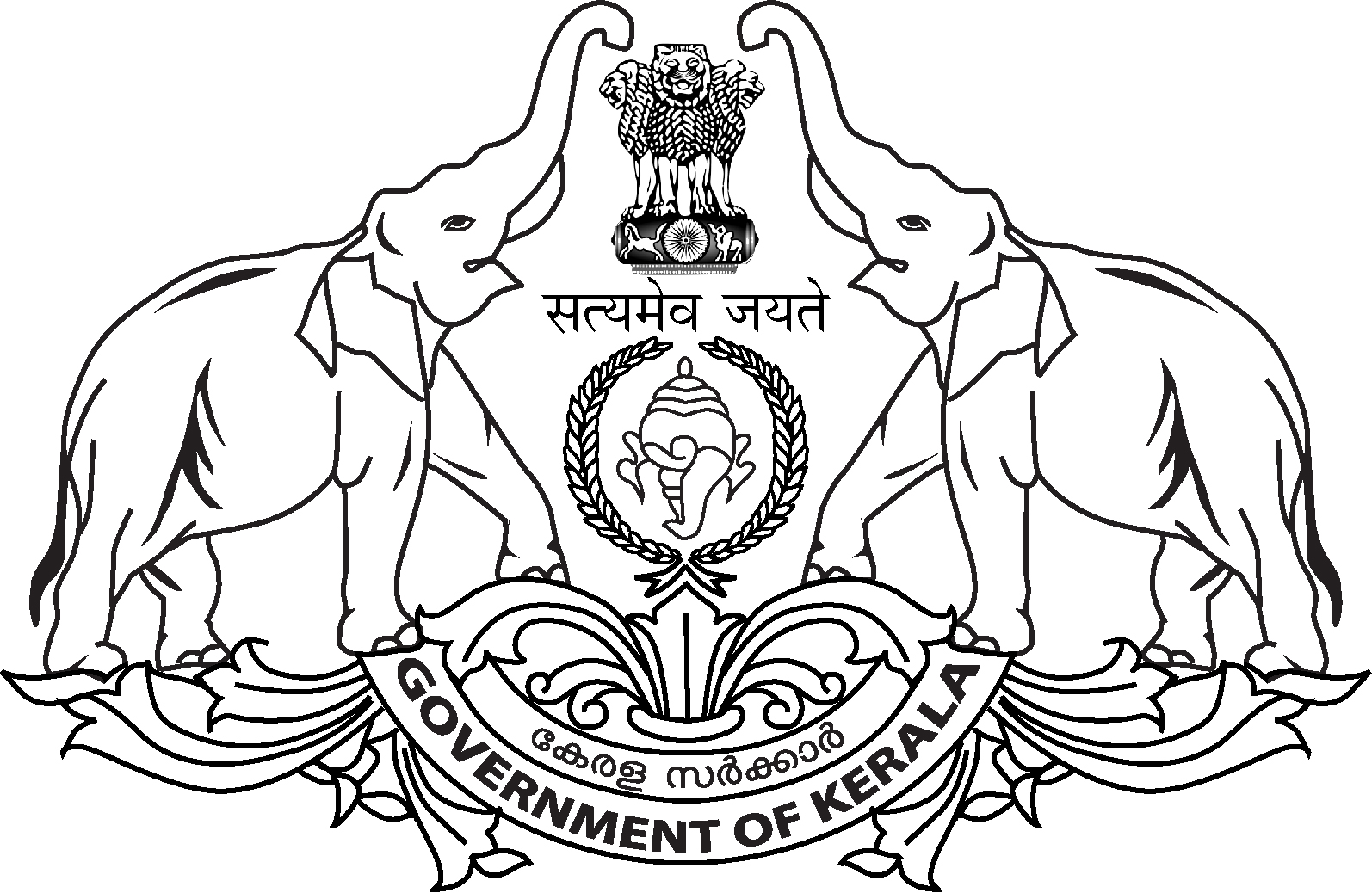 The State emblem of Kerala used by Government of Kerala, to represent the state in all its official correspondences. The emblem portrays two elephants guarding the state and national insignias.
The official Kerala emblem is a derivative version of the Royal coat of arms of the Kingdom of Travancore. The state emblem symbolizes two elephants guarding the Royal Sree Padmanabha's Shanku (Conch) in its imperial crest. The crest is garlanded with a wreath over which India's national emblem-Sarnath Lion Capital is found, as common to most Indian states. Beneath the sheath, it's inscribed as "Brihad-Aranyaka" in— Sanskrit inscribed in Devanagari script, which translated to "May light spell away darkness". The current emblem of Kerala was adopted in 1960 when Pattom A. Thanu Pillai's government came to power after removal of communist government by Central  Government.
Changes in Emblem
Kerala Government has made changes in its official emblemin 2010 by repositioning the inscription 'Satyameva Jayate' in Devanagari script under the Asiatic lions of the national emblem in it, which earlier came between two saluting elephants.
The changes, as per the recommendation of a committee that looked into the issue, were made to make the state emblem in tune with the national emblem as the Government of India uses the phrase 'Satyameva Jayate' below the four lions standing back-to-back..
Evolution of Emblem 
With passing of States Reorganization Act of 1956 by Indian Parliament, the state of Kerala was formed merging Travancore-Cochin with Malabar. After the elections of 1957, the CPI led by E. M. S. Namboodiripad came to power. The newly formed  Government decided to adopt a different state emblem as the emblem in use was an inherited legacy of monarchy days. The state emblem adopted in 1957 featured an Indian elephant representing Cochin, 2 Shanku on its crest representing Northern and Southern Travancore respectively and two palm-trees for the Northern and Southern Malabar, encircled in a crest with Indian National emblem on top.
Towards the present form 
With the removal of communist government from power in 1959, the newly formed Congress led coalition government adopted the current emblem with slight modifications from original Travancore Coat of Arms. This emblem was slightly modified later.
 'Satyameva Jayate' was written below the two saluting elephants, after the words 'Government of Kerala'. The committee appointed to submit recommendations had also suggested increasing the size of the fonts for writing Government of Kerala in both Malayalam and English. The government had asked all departments to incorporate the changes when they use  the emblem. 
In 2010 the new one is in use incorporating the recommendations of the committee.